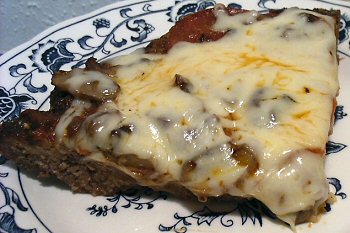 NO CRUST PIZZA (Thanks Linda)
1 pound ground beef
1/2 teaspoon salt
1 teaspoon dry minced onion
1/4 teaspoon Italian seasoning
1 clove garlic
1 tablespoon parmesan cheese
1/4 cup pizza sauce
4 ounces mozzarella cheese
2 ounces canned mushrooms
11 slices pepperoni
In a greased 10-inch glass pie plate, mix the ground beef, salt, onion, Italian seasoning, garlic and parmesan cheese. Press into the plate to form a crust. Top with the pizza sauce, mozzarella cheese, then the mushrooms and pepperoni. Bake at 350º 40-45 minutes. Carefully remove the "pizza" from the pan and place on a serving plate. Discard the grease.
Makes 4-6 servings
Can be frozen
Per 1/4 Recipe: 330 Calories; 23g Fat; 26g Protein; 3g Carbohydrate; 1g Dietary Fiber; 2g Net Carbs
Per 1/6 Recipe: 220 Calories; 15g Fat; 18g Protein; 2g Carbohydrate; trace Dietary Fiber; 1.5g Net Carbs

As you can see in my photos, there is cheese over the top of everything. That's how I made it this time, but next time I will put all of the cheese under the toppings. It looks more like a pizza that way. Also, this starts out looking quite large when you press the meat into the pan, but it shrinks quite a bit. What I thought would make 6 servings, turned out to be closer to 4 servings. With all the meat and cheese, though, it is pretty filling. I might try using half Italian sausage and half ground beef sometime.
Here's what the whole pizza looks like: