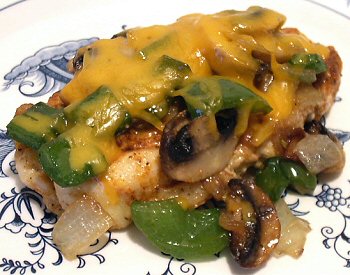 GRILLED "SMOTHERED" CHICKEN (Thanks Linda)
6 boneless chicken breasts
Salt, pepper, and desired seasonings to taste
Butter
8 ounces fresh mushrooms, sliced
1 green pepper, chopped, about 6 ounces
1/2 cup onion, chopped, 2 1/2 ounces
1 clove garlic, minced
8 ounces cheddar cheese, shredded
Flatten the chicken, if desired; sprinkle with desired seasonings. Grill until done to your taste. Meanwhile, sauté the mushrooms, green pepper, onion and garlic in butter until tender. Place the grilled chicken on a baking sheet, cover with the vegetables, then smother with cheese. Bake at 350º about 5 minutes, until the cheese is melted.
Makes 6 servings
Do not freeze
Per Serving: 332 Calories; 18g Fat; 38g Protein; 5g Carbohydrate; 1g Dietary Fiber; 4g Net Carbs

This is a simple, tasty recipe that could easily be varied. Other vegetables, such as zucchini, could be added and diced bacon might be nice cooked with the veggie mixture. Click the photo to see a close-up.