While searching for something sweet to eat, I found this recipe which sounds positively heavenly. I am definitely going to be buying some sour cream so that I can make this.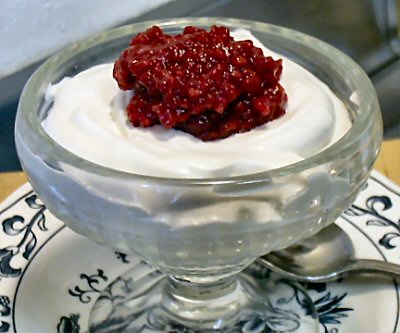 CHEESECAKE PUDDING
1 cup heavy cream, whipped
8 ounces cream cheese, softened
8 ounces sour cream
3/4 cup granular Splenda or equivalent liquid Splenda
2 teaspoons vanilla
Fruit, not included in the counts
Beat the cream cheese, sour cream, Splenda and vanilla until smooth. Fold in the whipped cream. Serve with fruit, if desired.
Makes 4 cups or 6 servings
Do not freeze
With granular Splenda:
Per Serving: 366 Calories; 36g Fat; 5g Protein; 7g Carbohydrate; 0g Dietary Fiber; 7g Net Carbs
With liquid Splenda:
Per Serving: 354 Calories; 36g Fat; 5g Protein; 4g Carbohydrate; 0g Dietary Fiber; 4g Net Carbs